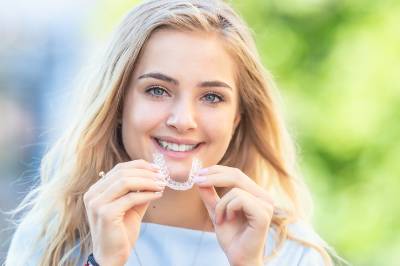 If you have crooked teeth or a misaligned bite and want an invisible solution, we offer Invisalign orthodontics at Elite Dental Aesthetics. Invisalign provides an effective and discreet method to achieve a straighter smile without the drawbacks of metal braces.
Crooked teeth and misaligned bites not only impact the aesthetics of your smile but can also cause functional challenges and affect your overall oral health. Invisalign fixes crooked teeth without needing extra oral care or imposing food restrictions. Your smile will continue to look pristine while your teeth are straightened.
How Invisalign Works
Invisalign takes a modern approach to straightening teeth. Your dentist will consult with you about your smile goals, and create aligners just for you. The aligners gradually shift your teeth.
Clear aligners, such as Invisalign, utilize a series of custom-made, removable trays that gently and gradually shift your teeth into their desired positions. The aligners are made from a smooth and comfortable material, allowing for a more pleasant orthodontic experience.
With their transparent appearance, clear aligners blend seamlessly with your natural teeth, making them virtually invisible to others. You can smile confidently throughout your treatment journey without the self-consciousness associated with traditional braces.
Welcome to Elite Dental Aesthetics, where we offer Invisalign—a revolutionary clear aligner orthodontic therapy that discreetly and effectively corrects your dental alignment issues.
The Invisalign Process
The Invisalign process begins with a comprehensive dental examination and a discussion of your smile goals. We then use advanced 3D imaging technology to create a precise treatment plan, including the exact movements of your teeth and the duration of your treatment. You'll even get to see a virtual representation of how your teeth will move during treatment.
Shortly after the consultation, you'll receive a series of custom-made clear aligners, which you'll wear for about two weeks each. The aligners are removed to eat, drink, brush, and floss. The aligners are meant to be worn for about 23 hours each day.
As you replace each aligner with the next in the series, your teeth will gradually move until they've straightened to their final positions. After your Invisalign, you will be given a nighttime retainer that keeps your teeth in place so that your smile stays straight and pleasing.
The Ease of Invisalign
Invisalign offers ease and comfort. Experience the countless benefits of Invisalign at Elite Dental Aesthetics and unlock the potential of a straighter, more confident smile.
We are passionate about helping our patients achieve their dream smiles through this revolutionary orthodontic treatment. Invisalign offers a multitude of advantages that go beyond just straightening your teeth:
Invisible Treatment: With Invisalign, your orthodontic treatment is virtually invisible, allowing you to smile confidently throughout your treatment.
Comfort: The smooth, custom-made plastic aligners eliminate the discomfort of metal wires and brackets.
Convenience: The removable aligners allow you to enjoy your favorite foods and maintain your oral hygiene routine with ease.
Speed: Invisalign treatment often requires less time than traditional braces, with results in months instead of years.
Predictability: With 3D imaging, you'll see your treatment plan from the beginning, giving you a virtual sneak peek at your future smile.
Fewer Office Visits: Invisalign requires fewer check-ins, allowing you to spend time using your smile.
Take the First Step Towards a Straighter Smile
Ready to embrace the clear alternative to braces? Our dental team at Elite Dental Aesthetics is ready to guide you on your path to a straighter, healthier smile. Invisalign offers a convenient and effective way to have a straight and beautiful smile. Contact us today to schedule your Invisalign consultation.
You May Also Be Interested In: