Revive Your Smile with Custom Dentures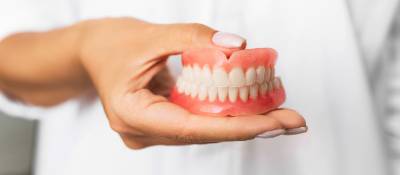 Tooth loss can significantly diminish your quality of life, impacting your ability to eat, speak, and smile with confidence. We provide several different kinds of dentures to support your needs and your health.
Our range of denture options includes traditional, partial, implant-supported, and removable implant dentures. You can rediscover the joy of a beautiful, comfortable, and functional smile.
Since our dentures are custom, we avoid the pitfalls of traditional dentures, like ongoing adjustments, gum irritation, and discomfort. Dentures are made from a variety of materials, but we prioritize long-lasting and visually appealing materials in our work. At Elite Dental Aesthetics, we craft exquisite dentures tailored to your unique needs, combining form and function for unparalleled results.
Schedule a consultation today and we'll get you started on a marvelous new smile.
Denture Options for Your Smile
Traditional Dentures
Our expertly crafted full dentures replace an entire arch of missing teeth, providing a natural-looking and comfortable solution for those seeking to restore their smile's beauty and function.
Partial Dentures
Partial dentures are designed to seamlessly fill gaps left by missing teeth. Our partial dentures are custom-fitted and fit perfectly with your existing teeth, giving you a complete and radiant smile. They can be implant-supported or traditional dentures, based on what your mouth needs.
Implant-Supported Dentures
Combining the stability of dental implants with the convenience of dentures, our implant-supported dentures offer a secure and comfortable alternative to traditional dentures, anchored by strategically placed implants for optimal stability.
Removable Implant Dentures
Experience the best of both worlds with our removable implant dentures, which provide the stability and support of dental implants while remaining easily removable for cleaning and maintenance.
The Benefit of Dentures with Elite Dental Aesthetics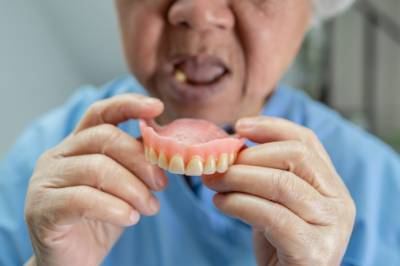 Preserve your oral health and your smile with us! Numerous advantages await you when you choose dental implants for your tooth loss solution:
Restored Confidence: Our custom dentures enable you to regain your self-esteem, empowering you to look and do your best.
Personalized Fit: We customize your dentures to fit your unique dental structure, ensuring optimal comfort and a natural appearance.
Aesthetic Appeal: Our dentures are designed to replicate the beauty of natural teeth, providing a seamless solution to tooth loss.
Enhanced Functionality: Dentures restore the functionality of your teeth. With our dentures, you can enjoy your favorite foods and speak with ease.
Long-lasting and Durable: Crafted from high-quality materials, our dentures offer a durable and long-lasting solution for missing teeth.
Versatile Options: Choose from our range of denture options, including traditional, partial, implant-supported, and removable implant dentures, to find the perfect solution for your needs.
Improved Oral Health: Replacing missing teeth with dentures helps maintain your oral health by preventing bone loss, shifting teeth, and other dental issues associated with tooth loss.
Expertly Crafted: Our skilled team at Elite Dental Aesthetics meticulously designs and crafts each denture, ensuring a superior fit and appearance for your unique smile.
Simplified Maintenance: Dentures require minimal maintenance, allowing you to maintain your radiant smile without daily interruption.
Comfort and Stability: Our dentures are crafted with your comfort in mind, providing a stable and secure fit that feels like a natural extension of your smile.
Reclaim Your Radiant Smile with Elite Dental Aesthetics Dentures
We offer the joy of a complete, functional, and beautiful smile. Don't let tooth loss hold you back any longer. Schedule a consultation with our team of dental professionals and begin your journey to a renewed, radiant smile with our denture solutions.
You May Also Be Interested In: