Restore Balance To Your Smile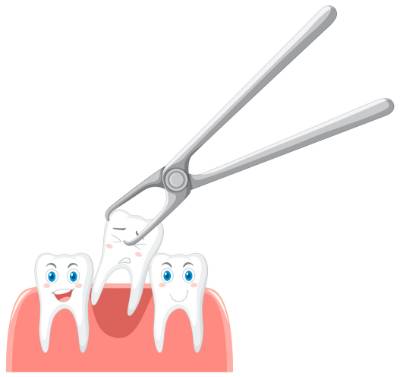 At Elite Dental Aesthetics we employ state-of-the-art techniques and personalized care to ensure a seamless, pain-free tooth removal experience. Tooth extractions may become necessary for various reasons, including severe tooth decay, gum disease, or wisdom teeth. Your oral health is always our highest priority.
We prioritize your comfort and well-being throughout the entire extraction process. Contact us for skilled wisdom teeth removal or dental extractions.
Wisdom Teeth Removal
Our experienced team carefully monitors wisdom teeth as they appear, using specialized dental technology. We consult each and every patient regarding their smile and their wisdom teeth. By removing wisdom teeth, we prevent future issues in your smile.
The Wisdom Behind Wisdom Teeth Removal
Wisdom teeth, or third molars, typically emerge in late adolescence or early adulthood. However, due to a lack of space in the mouth, they can often become impacted or misaligned, leading to a host of dental complications, including overcrowding, misalignment, or other impacted teeth.
As we keep an eye on your wisdom teeth, we will take a proactive and preventative approach. Removing wisdom teeth prevents potential issues such as infection, crowding, damage to adjacent teeth, cyst formation, and periodontal disease. By taking action early we protect the integrity of your smile.
At Elite Dental Aesthetics, we prioritize your well-being by providing expert wisdom teeth removal services.
Our Extraction Process
The extraction process for any kind of tooth extraction is designed to provide a comfortable and efficient experience. Regular extractions involve most or all the following steps:
Comprehensive Evaluation: Our dental experts begin by conducting a thorough examination of your oral health, using tools such as x-rays to accurately assess the condition of your teeth and gums.
Customized Treatment Plan: Based on the evaluation, we develop a personalized treatment plan tailored to address your specific needs.
Anesthesia and Sedation: To guarantee your comfort during the procedure, our skilled professionals administer local anesthesia or sedation as needed, and make the experience as pain-free as possible.
Tooth Extraction: Our dental team carefully performs the extraction while prioritizing your safety and comfort. We attempt to be quick and precise, so your extraction does not take too much of your time.
Post-Procedure Care: Once the extraction is complete, we provide detailed aftercare instructions to aid in a swift and successful recovery. Our team remains available to address any concerns or questions you may have during the healing process.
By following this step-by-step approach, Elite Dental Aesthetics ensures a seamless extraction process and a comfortable experience for our patients.
Why You Might Need Teeth Extraction
Tooth extractions, particularly wisdom teeth removal, offer numerous advantages for your oral health and overall well-being. There are several other reasons a dentist will suggest a tooth extraction.
Prevention of Overcrowding: Timely wisdom teeth removal can prevent overcrowding and misalignment, preserving the harmony of your smile and eliminating the need for orthodontic intervention.
Placement of Braces: If you are getting Invisalign or braces and still have childhood teeth, they will need to be removed before you can align your teeth.
Infection Prevention: By removing decayed or damaged teeth, we help to prevent the spread of infection and protect the health of your surrounding teeth and gums.
Clearer Speech: If you have overcrowding or misaligned teeth this can impact speech clarity. Extractions help to create space and improve oral function, enhancing your ability to communicate effectively.
Secure Your Smile's Future with Elite Dental Aesthetics
Problematic or painful teeth need care and an experienced hand. Consult with us today for a proactive approach to wisdom teeth, and a prevention focus on tooth extractions.